Exotic Citrus Diseases
Exotic Citrus Diseases are NOT
found in Florida but...
If you suspect any of these
diseases in your grove



Report It!



Early detection is essential
to protecting Florida Citrus!
Disease Identification
What is an Exotic Citrus Disease?

An exotic citrus disease is a disease that does not occur in Florida, but can be found in other major citrus growing regions around the world. This website focuses on five exotic citrus diseases that are of economic importance in other parts of the world and can potentially become established in Florida: Citrus Leprosis, Citrus Tristeza Virus-Stem Pitting, Citrus Variegated Chlorosis, Pseudocercospora Fruit and Leaf Spot, and Sweet Orange Scab. The collection of exotic citrus disease documents on this website provide valuable information on the causal agent, symptoms, and transmission of the diseases. This information can be used as a basis for creating response plans for each of the diseases, as well as educational tools for scouting and identification efforts. Early detection is essential to protecting Florida citrus.
Why are we concerned about Exotic Diseases?

Huanglongbing (HLB), Citrus Canker, and Citrus Black Spot were all at one time considered exotic citrus diseases. These diseases, especially HLB and Canker, have profoundly changed the way we grow citrus in Florida and have been economically devastating to our industry. Any exotic disease, if introduced, may further increase production costs and decrease profitability for Florida growers. Exotic diseases will affect the viability of the industry and the varieties that could be profitably grown. Not only is the environment here in Florida favorable to these exotic diseases, but also there are established populations of the insect vectors already in the state for three of the diseases. The disease triangle below shows the three elements needed for disease infection. A fourth element, the vector, is needed for diseases spread by insects. All three or four elements must be present for a disease to occur and spread. In Florida, we have the susceptible host, citrus, and we have the favorable environment. If the pathogens of these exotic diseases enter Florida, the potential for a disease outbreak is imminent.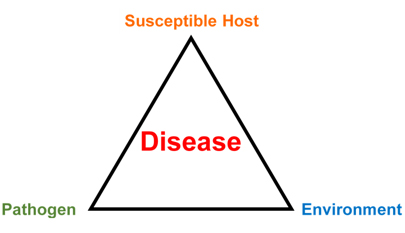 What can growers do?

Increased awareness and knowledge of the diseases will aid in early detection. Early detection of these diseases will allow quick actions to be taken in the event of an outbreak. Growers should become familiar with the symptoms of these diseases and educate their grove workers on what to look for while scouting and working in the grove. This website provides information, including descriptions and images that growers can use to educate themselves and their workers about these exotic diseases. Also on this website, there are links to resources and publications available for each of the diseases.
How to report a suspected find

If you suspect you may have any of these exotic diseases Report It! Contact your local Florida Department of Agriculture and Consumer Service's CHRP office for further diagnostic testing. Do not move infected plant material, fruit, or insects out of the area.
Click on the following diseases for more information: