Disease Identification
Greening or Huanglongbing (HLB) Worldwide
Information and photos were obtained from the Journal of Plant Pathology, 2006, Huanglongbing: A Destructive, Newly-Emerging, Century-Old Diesease of Citrus by J.M. Bové
1919: First reported in southern China
1921: First report of disease in the Philippines, but it was thought to be related to zinc deficiency.
1928: A disease under the names, yellow shoot or greening depending on region, was observed in South Africa
1937: The first description of HLB in South Africa was assumed to be mineral toxicity
1941-1955: Most extensive work on greening in southern China was conducted
Areas visited in Southern China and Taiwan by Lin Kung Hsiang in between 1941 and 1955. Red dots represent where HLB was found and blue dots represent areas where it was unclear whether HLB was present.
1956: Lin Kung Hsiang (researcher from China) concluded that greening is a graft transmissible infectious disease, not related to physiological disorders (e.g. nutrient deficiencies, water logging, etc.) or soil borne diseases (e.g. phytophthora, etc.)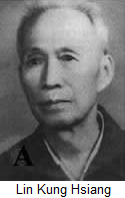 1960's: HLB first appeared in Thailand
1965: Researchers in South Africa demonstrated HLB was transmissible by graft inoculation and by the African citrus psyllid, Trioza erytreae
1966: Philippine and Indian researchers recognized the similiarities between the 'mottle leaf' or 'citrus dieback' disease and HLB in China and Taiwan and 'greening' in South Africa
1967: Philippine researchers demonstrated 'mottle leaf' or 'citrus dieback' could be transmitted by the Asian citrus psyllid, Diaphorina citri
1995: The offical name of the disease became huanglongbing (HLB) at the International Organization of Citrus Virologists (IOCV) at the 13th conference of the Organization in
Fuzhou (Fujiam, China)
1998: Asian citrus psyllid arrived in Florida
2004: The disease was confirmed to be in Brazil
2005: The disease was confirmed to be in Florida
Florida History
2005
August -Citrus greening was first confirmed in south Miami-Dade county
October 25 - Four counties confirmed positive (Dade, Broward, Palm Beach, Hendry) Map
September 16 - Federal order issued to restrict the interstate movement of all citrus greening
and Asian citrus psyllid host plant material from Florida's quarantined areas
2006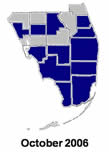 March 14 - Regulations for citrus nurseries were established
May 3 - The September federal order was revised
June 16 - Twelve counties confirmed positive (Monroe, Collier, Lee, Martin, St. Lucie, Highlands, DeSoto, Manatee) Map
2007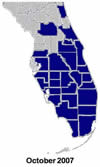 January 26 - Fourteen counties confirmed positive (Brevard, Hillsborough) Map
April 30 - Twenty counties confirmed positive (Orange, Sarasota, Volusia, Okeechobee, Glades, Charlotte) Map
May 31 - Twenty-two counties confirmed positive (Osceola, Seminole) Map
July 27 - Twenty-five counties confirmed positive (Hardee, Marion, Indian River) Map
August 24 - Twenty-six counties confirmed positive (Polk) Map
October 30 - Federal order revised
October 31 - Twenty-eight counties confirmed positive (St. Johns, Pasco) Map
November 2 - A third Federal order was issued due to the spread of greening and the Asian citrus psyllid
November 30 - Two new counties, Lake and Hernando, confirmed with citrus greening Map
December - Federal order issued was revised to include all counties with a confirmed positive greening find
2008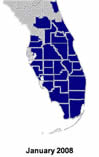 January 11 - Federal order issued to quarantine the entire state of Florida
June 24 - Thirty-one counties confirmed positive (Pinellas) Map
August 7 - Thirty-two counties confirmed positive (Sumter) Map
2009
February 16 - Thirty-three counties confirmed positive (Putnam) Map