MAC City Block Trial, Lake Alfred
Principal Investigators
Jude Grosser, Ph.D., Professor, Citrus Breeding and Genetics
Arnold Schumann, Ph.D., Professor, Soil and Water Science
Troy Gainey, Grove Manager
Michael Rogers, Ph.D., Center Director and Professor, Entomology
MAC City Block Trial Description
The MAC City-Block grove was established to demonstrate how a citrus grove can be brought into successful production in the presence of HLB, starting with clean plant material, routine scouting for pests, and effective Asian citrus psyllid control. Varieties include new scion rootstock combinations developed by the UF/IFAS CREC improvement program. Scions include: early oranges Hamlin and UF-Hamlin N13-32; late oranges include standard Valencia, newly selected UF-Valencia clones and UF-OLL (Orie & Louise Lee) clones; and the HLB-tolerant SugarBelle® (>70 scion/rootstock combinations in all). This project consists of 70 plus acres just north of UF/IFAS CREC, Lake Alfred and planted in summer 2017. Replicated plot size is 50 trees/plot (2 adjacent rows of 25 trees), with variable number of plots per scion/rootstock combination due to tree availability at the time of planting.
MAC City Block Trial - Summary
Location: Lake Alfred, Polk county.
Scions: standard Hamlin, UF-Hamlin N13-32; standard Valencia and UF-Valencia clones B3-42, B9-65, N7-3, N7-10, N10-13; UF-OLL (Orie & Louise Lee) clones 4,6,7,8 &10; and SugarBelle®.
Rootstocks: large collection of new diploid and tetraploid rootstocks, x630 as the commercial control.
Date Planted: 2017
Design:


Replications: Variable per rootstock
Spacing: 10x20 ft.

Data:

2019/20 & 2020/21: Tree height and canopy volume.
2019/20 and 2020/21: Evaluation of foliar symptoms, canopy color, canopy thickness and yield for Early and Late Oranges; SugarBelle® data for 2019/20.
2020/21: juice quality for Early and Late Oranges.
2020/21: tree survival for Early, Late Oranges and SugarBelle®.

Trial status: ACTIVE.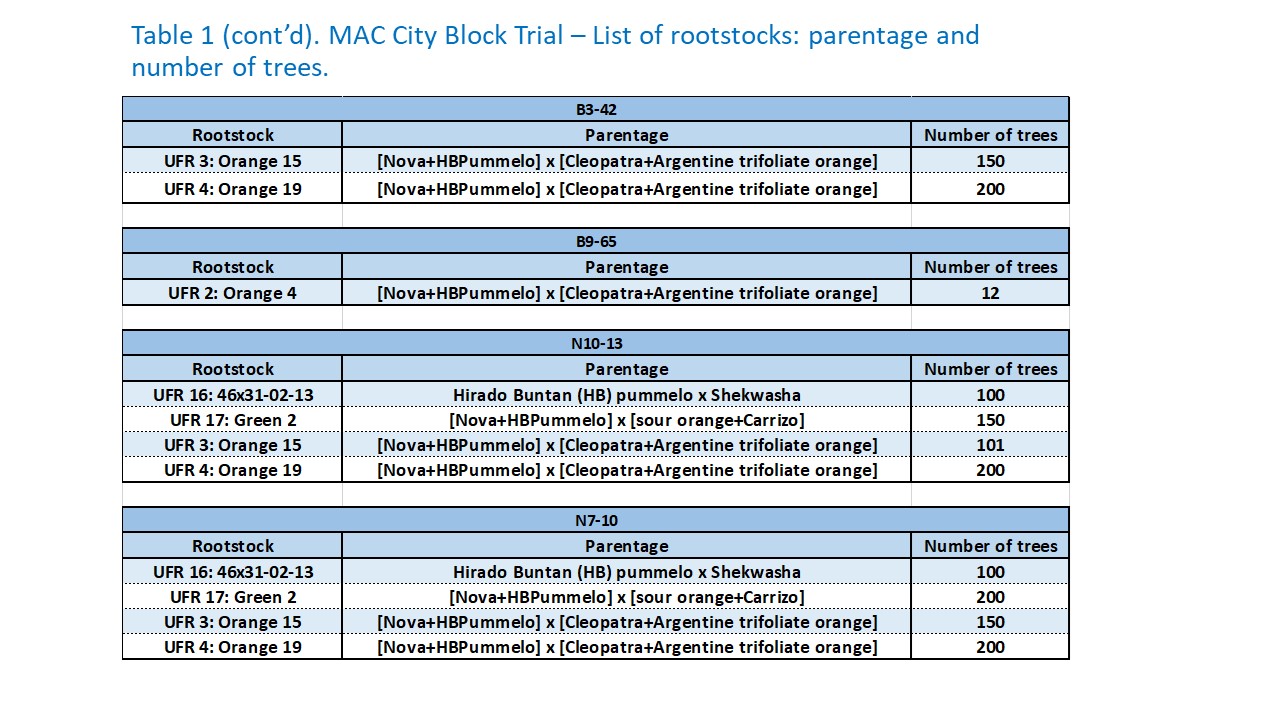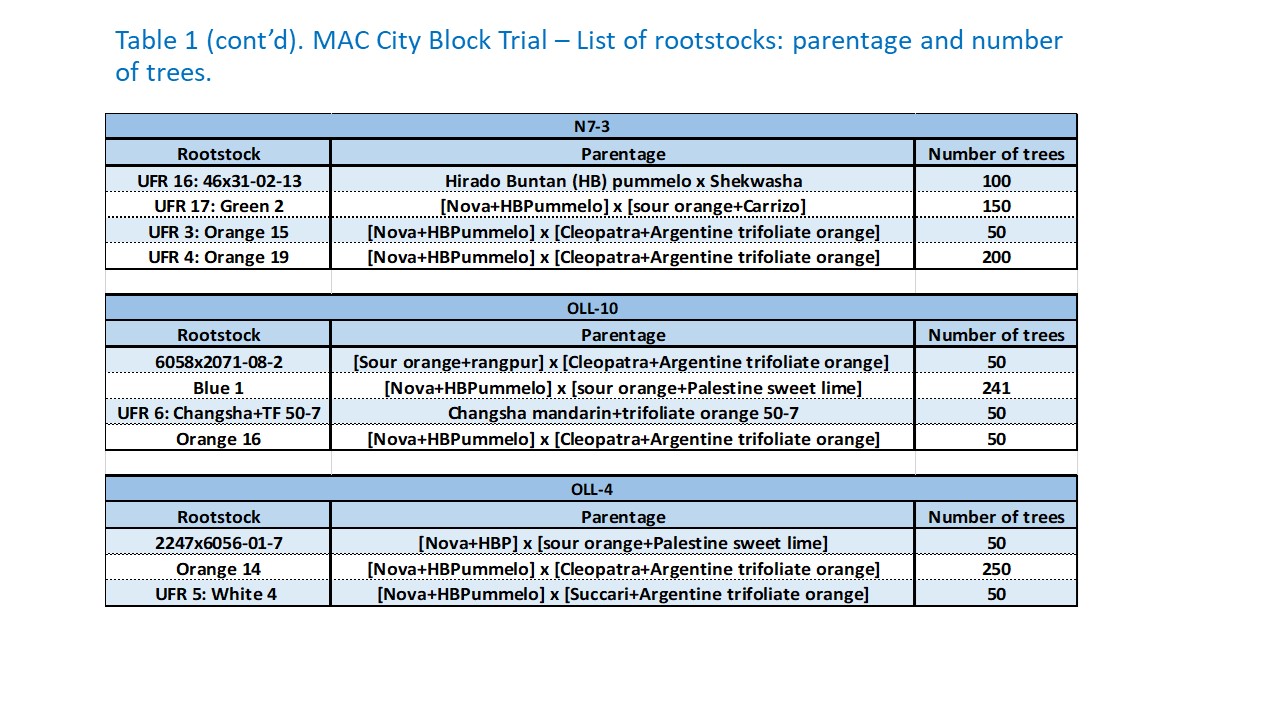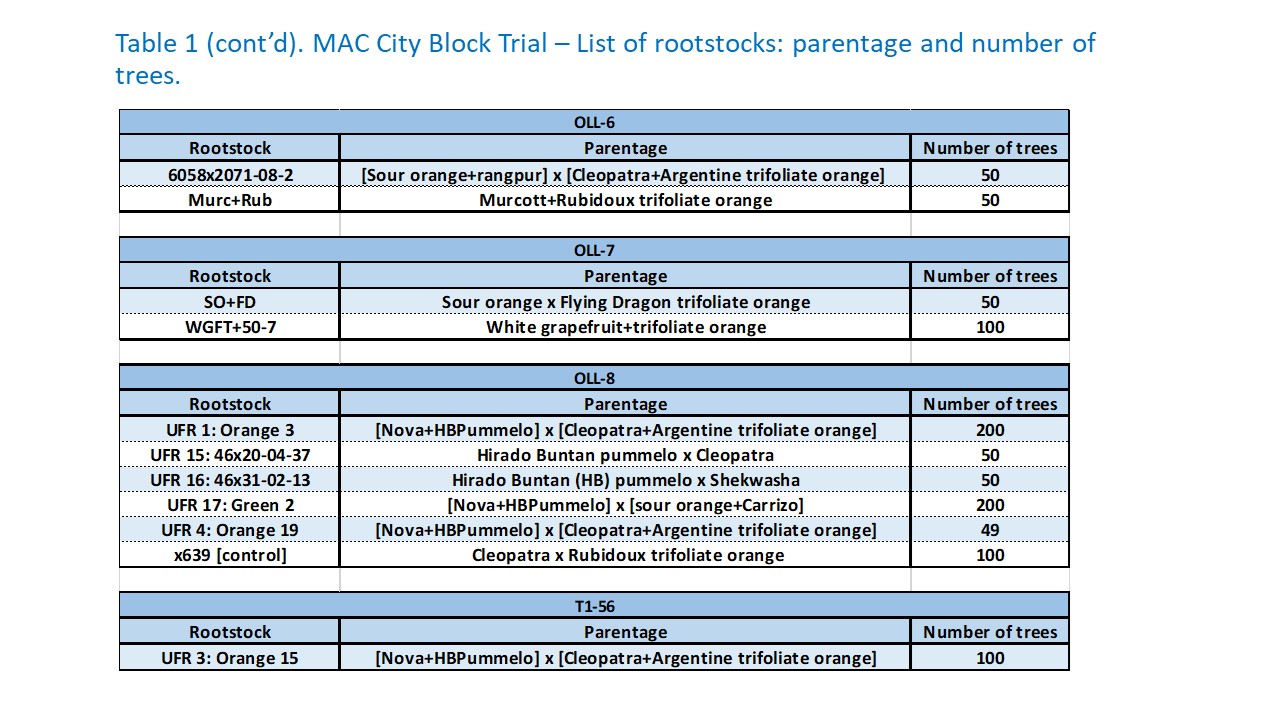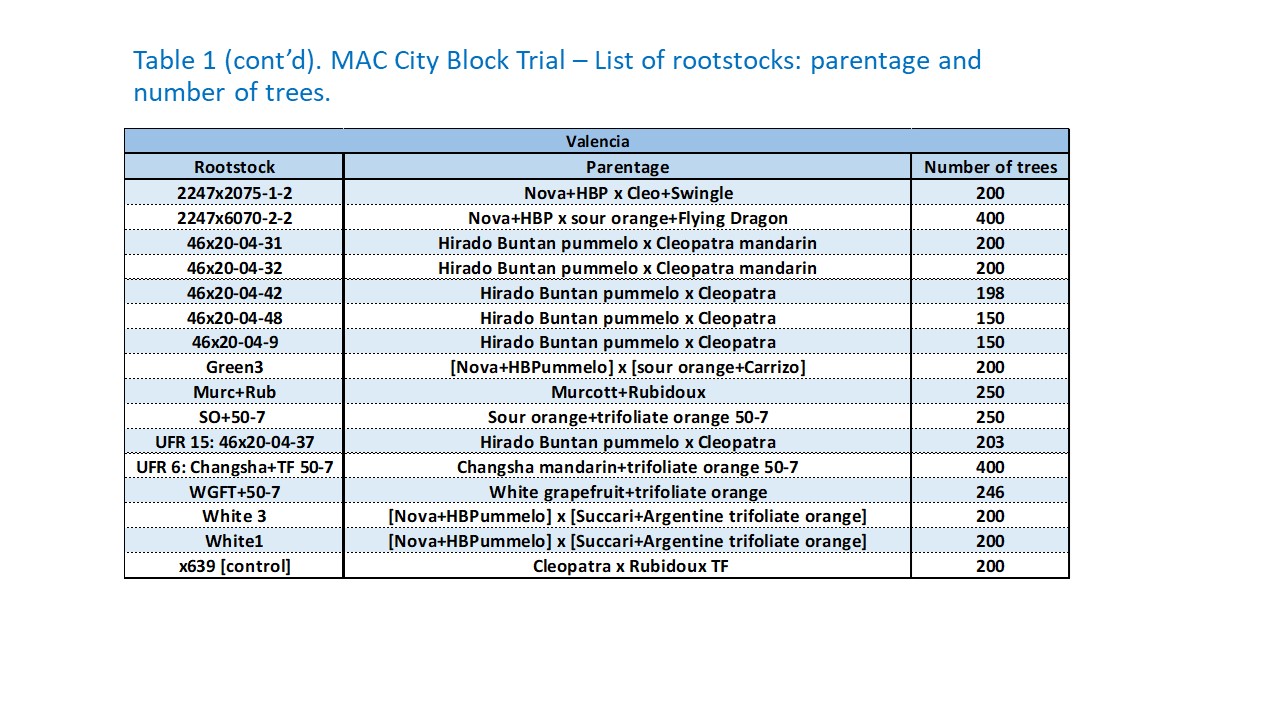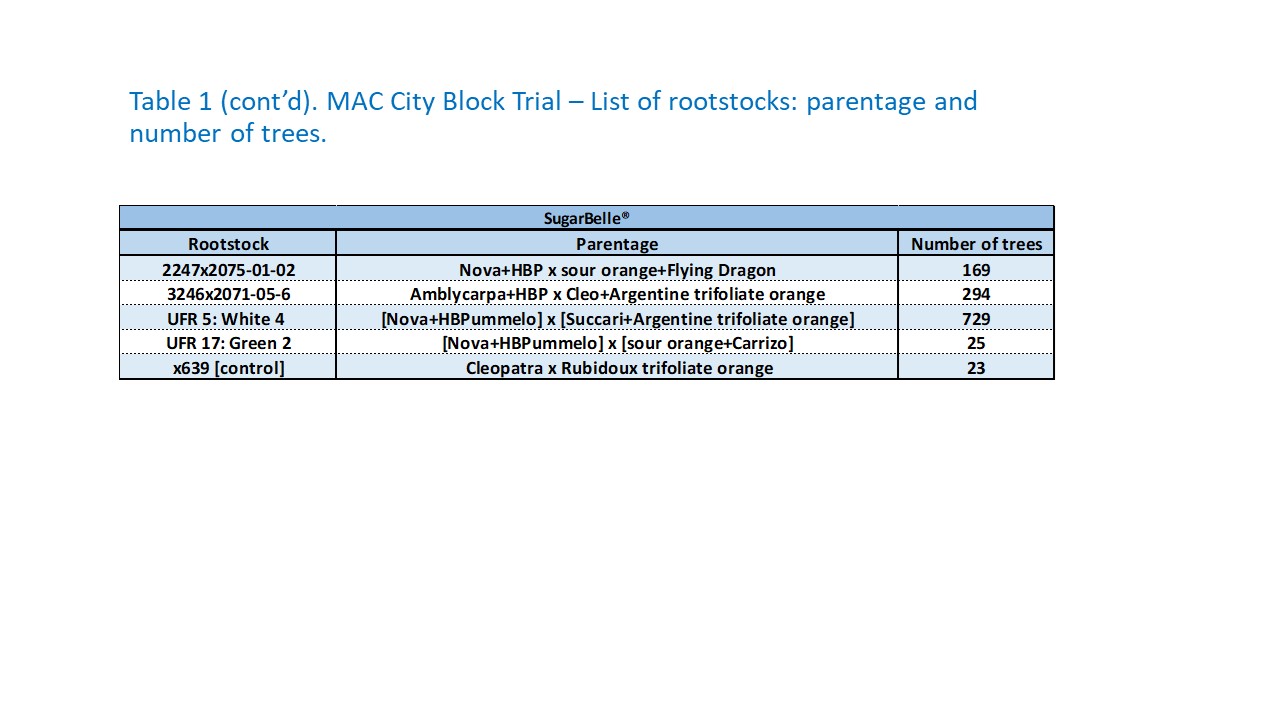 MAC City Block Trial - Interpretive Summary
As expected, the data show a lot of variation in how the various scion/rootstocks grew off under heavy HLB pressure. By the end of year two, nearly all of the trees were HLB+, despite routine imidacloprid treatments.

Tree Growth: As expected, the commercial control rootstock x639 grew off vigorous and relatively healthy trees, but produced fruit with low quality. Other commercially available rootstocks growing trees off quickly, but with better fruit quality with late-season oranges were UFR-4, UFR-5 and UFR-17. UF-Hamlin N13-32 sweet orange produced larger trees than standard Hamlin, but were slower to bear. OLL-8 sweet orange produced the largest trees among the late oranges, significantly larger than the standard Valencia trees. This has been observed at multiple locations.
Fruit/Juice Quality: This past season, most trees had fruit, so we were able to begin fruit quality assessments. Fruit quality was a major issue across the entire Florida citrus production area during the 2020/2021 season, with the lowest soluble solids/box averages ever recorded. This was driven by low Brix and juice content, caused primarily by HLB, but also due to heavy rains and a lack of cold nights in the early fall. With so many new trees being planted in the state, there is now more focus on young tree juice quality. In this MAC trial, juice quality was highly variable, but was much better overall with the late oranges than with the early Hamlins. Rootstocks that promoted higher juice quality in both the earlies and lates were White 1 and UFR-5 (White 4), both tetraploid siblings from a cross of [(Nova + HBPummelo) x (Succari sweet orange + Argentine trifoliate orange)]. Trees on these two rootstocks were also quite healthy overall, with medium-large tree sizes. UFR-5 is commercially available, and we hope to release White 1 in the near future. Use of these rootstocks should help with the young tree fruit/juice quality issue.
Best Performing Rootstocks for Hamlin: Hamlin trees on rootstocks UFR-4, x639 and UFR-17 grew the fastest (all 3 commercially available), quickly producing large trees with reasonably good health; however, the juice soluble solids in the first crop were poor (2.5-2.8 lbs. solids/box). Rootstocks showing medium vigor and tree size with good health, but producing first crop fruit with much higher soluble solids (3.9-4.3 lbs. solids/box) were White 1, 46x20-04-32, and 2247x6070-02-2. These latter 3 rootstocks are not commercially available, but all three are in the DPI-Parent Tree Program and can be made available for advanced trials.
Best Performing rootstocks for Valencia and OLLs: The fastest growing and largest trees were OLL oranges on rootstocks UFR-4, UFR-5, UFR 16 and x639 (all commercially available); however, among these, UFR-5 produced the highest lbs. solids/box of 5.5 with OLL-4 scion. OLL-7 on WGFT+50-7 produced a medium-sized tree with 5.7 lbs. solids/box. For Valencia, highest lbs. solids were from medium-sized trees on rootstocks 46x20-04-42 (5.9 lbs. solids/box), White 1 & UFR-4 (both 5.4 lbs. solids/box). Rootstocks WGFT+50-7, 46x20-04-42, and White 1 are not commercially available, but are in the DPI-Parent Tree Program and can be made available for advanced trials.
Best Performing rootstocks for SugarBelle®: SugarBelle® was planted on only 5 rootstocks, but among these rootstock UFR-5 had the best combination of uniform vigorous tree growth, canopy thickness, canopy color and least amount of foliar symptoms. Fruit quality was not assessed, but SugarBelle® on UFR-5 made very high quality fruit on young trees in a previous trial.
Unexpected Issues: The primary source of nutrition in this trial has been fertigation, using emerging optimized, commercially available, liquid fertilizers blends. However, the trial was set up with low-volume blue microjets that deliver 10.5 GPH. We have experienced a chronic problem with microjet clogging, and in some cases excessive sand buildup in the irrigation lines at the end of the rows, despite routine flushing. This problem has caused the loss of some trees, and also compromised others due to a lack of water and thus nutrition. During year 3, the trial was supplemented with a 12-month 12-4-8 CRF (controlled release fertilizer) product containing an enhanced micronutrient package. We have also discovered a soil pH problem, encountering pH values above 7.0 (with 5.5-6.5 being the optimum range). These problems are now being aggressively addressed. Microjet-clog preventatives are being considered, and the trial block will be treated with sulfur to correct the pH issue. This should significantly improve overall tree health as we move forward. However, we recommend using higher volume microjets in new plantings to help avoid the clogging issue.
Future nutrition: The CREC team of soil/nutrition experts is developing a new nutrition program as we move forward. We will continue to use fertigation from January until the summer rains begin, applying nutrient levels that match the tree nutrient-utilization curves; then switch to a hybrid blend of soluble dry and CRF fertilizers for the remainder of the year. This should allow us to maintain required nutrient thresholds year round with efficient economics, as to maximize tree health, yields and fruit/juice quality.
Acknowledgements
This project was supported by APHIS-MAC Grant AWD05019
The authors thank Emory McTeer and Dr. Filomena Valim for data collection and analysis.
September 3, 2021