Scion-Rootstock Trial, Fellsmere
Dr. Bill Castle – Dr. Fred Gmitter - Dr. Jude Grosser
October 23, 2021 - revised​
February 11, 2021 - Updated
December 7, 2020 - Posted
CREC Citrus Plant Improvement



Scion-Rootstock trial, Fellsmere - Description
This cooperative trial, located in Fellsmere, Indian River County, was planted in April 2010 as a preliminary examination of 4 scions on various rootstocks in an Indian River site. The number of trees was uneven, thus, only a few trees to as many as 10/scion-rootstock combination of Sugar Belle, Lane Late navel, Vernia sweet orange and Furr [hybrid of Murcott x Clementine mandarin] were planted on double-row beds previously in citrus. In October 2011, 43 trees of Furr on Willits citrange were added to the trial. Overall, there were 67 rootstocks not equally distributed among the scions leading to 107 scion-rootstock combinations [Table 1].
Scion-Rootstock trial, Fellsmere - Summary
Location: Fellsmere, Indian River County.
Scion: Sugar Belle, Lane Late navel, Vernia, Furr mandarin
Rootstocks: 67 unequally divided among the scions
Date planted: April 2010
Design: Randomized complete-block; 0 – 4 replications


Plot size: Mostly 2-4 trees
Spacing: 10 x 25 ft.

Data:

2017/18: Juice quality for Furr mandarin
2018/19: Juice quality for Sugar Belle, Lane Late.
2018/19: HLB rating
2019/20: HLB rating
2020/21: HLB rating; % dead trees.
2020/21: Yield; Juice quality for Sugar Belle, Lane Late and Vernia




Trial Status: TERMINATED AFTER 2020-21 SEASON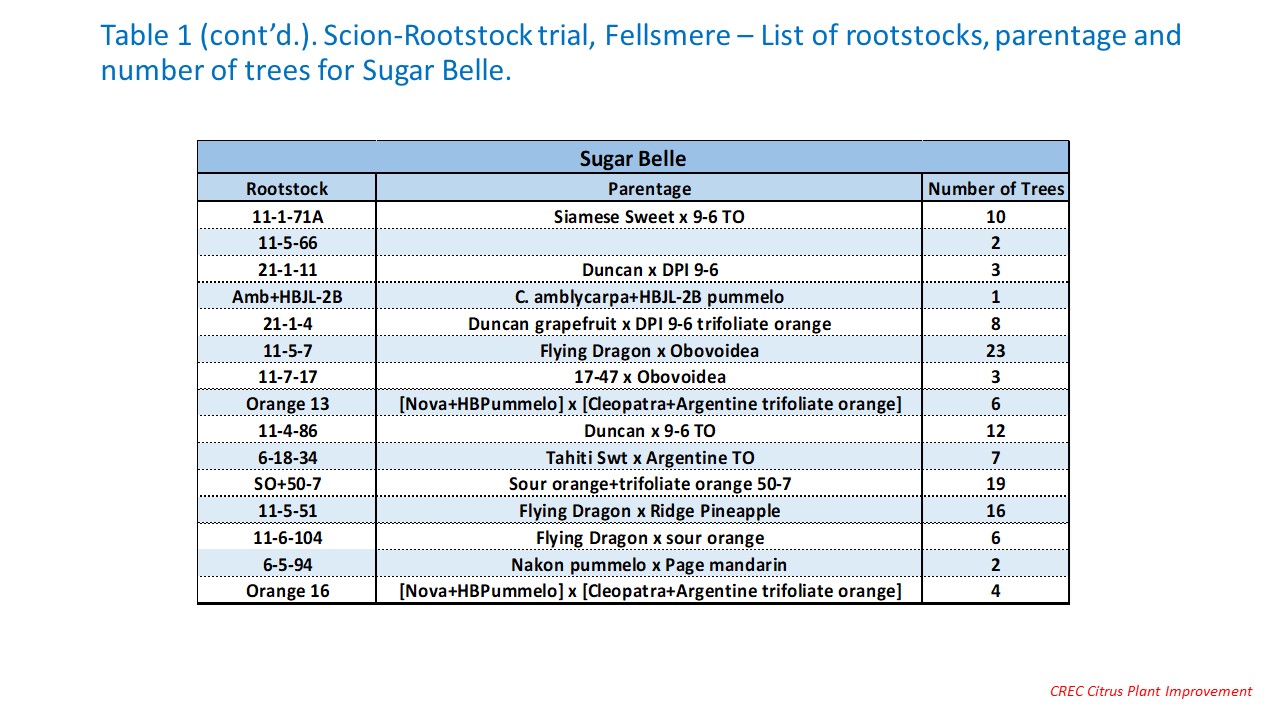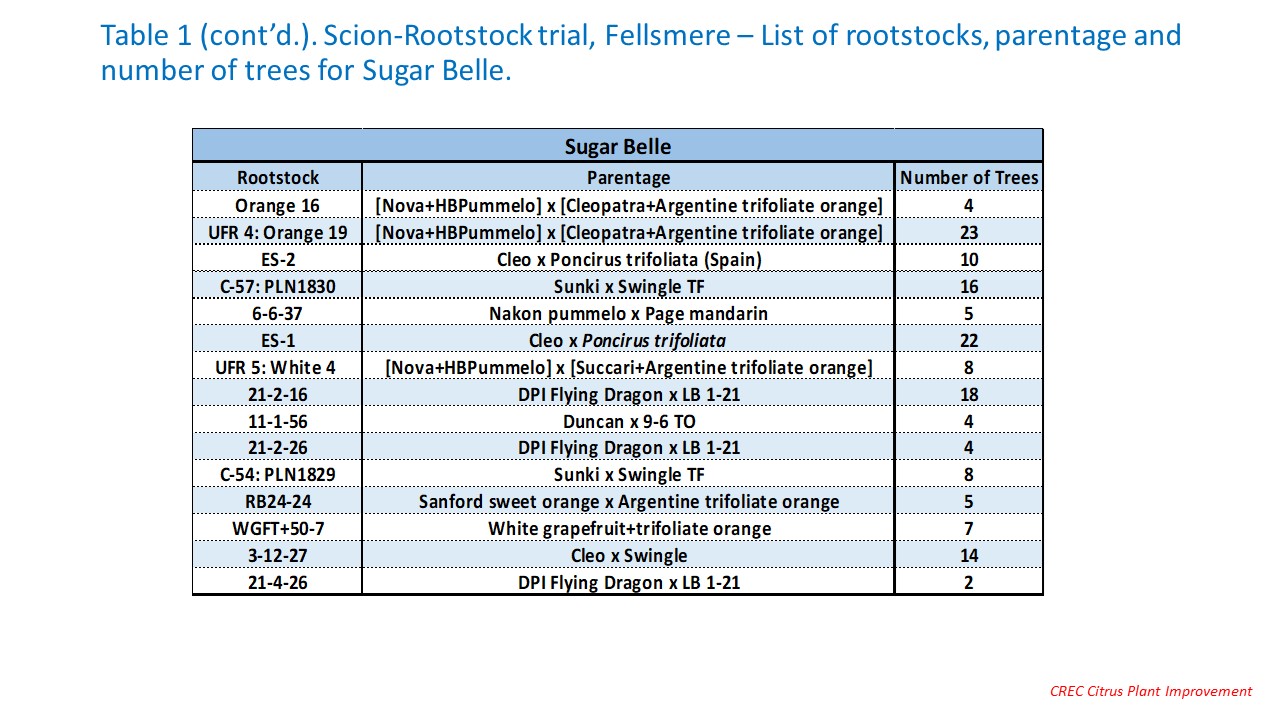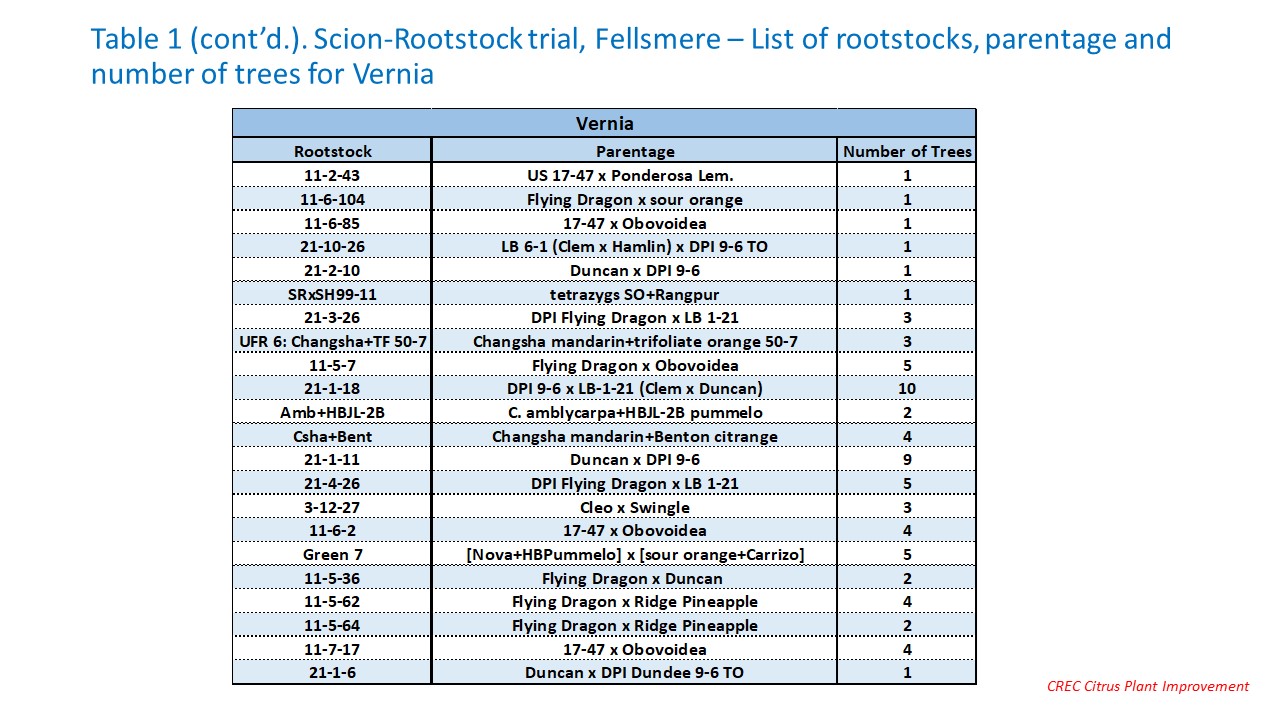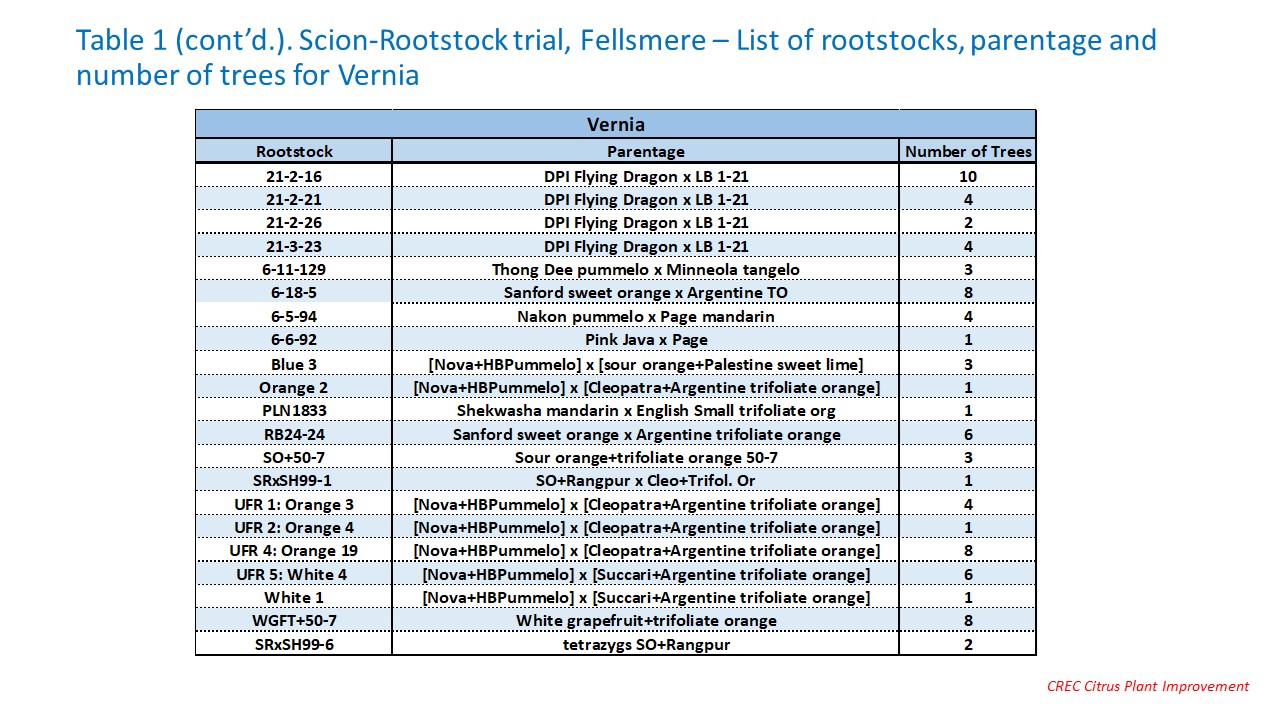 Scion-Rootstock trial, Fellsmere – Interpretative summary [as of December 2020]:
The following summaries are the result of a combination of data collected during the 10-year period after planting and observations by the investigators and the grower-cooperator generally made in December in 2014, 2016 and 2018 when the trees were 4, 6 and 8 years old, respectively.
Sugar Belle mandarin hybrid. As is consistent throughout Florida, this variety showed little effect of HLB. Fruit were typically bell-shaped with a prominent neck and well-colored by late December with good juice quantity and flavor. Low-seeded. Among all rootstocks, those that were generally among the better performing ones given consistent yield and tree and fruit appearance were Orange 13, C-57, FA-5 and a Flying Dragon trifoliate orange hybrid.
Lane Late navel. Overall, this variety was disappointing in that, while the trees grew off ok and showed few HLB symptoms, they were late coming into bearing. The trees were low-yielding and the poor-quality fruit were large and dried out quickly. Rootstocks: SO + TF 50-7 and an unnamed citrumelo and citrange.
Vernia sweet orange. These trees were visibly affected by HLB, but their smaller than expected size may have resulted mostly from their heavy and consistent cropping. As elsewhere in field trials and commercial plantings, bearing was precocious, and fruit were typically egg-shaped with excellent juice quality. Rootstocks: Orange 19 [UFR 4] and an unnamed citrange.
Furr mandarin hybrid. The overall rating of this variety at this site would be GOOD. Tree vigor and size were moderate. HLB symptoms were apparent, but the trees were tolerant. Cropping was inconsistent, but when fruit was produced, fruit size was smallish, but acceptable and fruit juiciness and flavor were excellent. Rootstocks: Willits citrange, Orange 19 [UFR 4] and SO + TF 50-7.