Indian River 'Marsh' Grapefruit Rootstock Trial, Vero Beach
Dr. Jude Grosser – Dr. Bill Castle – Dr. Fred Gmitter
October 6, 2021 - Revised
August 4, 2020 - Revised
December 7, 2018 - Posted
CREC Citrus Plant Improvement


Indian River 'Marsh' Grapefruit Rootstock Trial Description
Citranges are an important group of rootstocks utilized worldwide. Trees on citrange rootstocks generally feature robust growth, good disease resistance, heavy production and good fruit quality. The purpose of this replicated trial, planted in 2007 west of Vero Beach, was to assess the performance of 'Marsh' grapefruit on a collection of 42 promising rootstock candidates (mostly citranges from California and the CREC breeding program), under typical Indian River grapefruit conditions. Disease ratings and yield and fruit quality data from this trial were used in the decision to release citrange rootstocks UFR-7, 8, 9, 10, 11 & 12.
Indian River 'Marsh' Grapefruit Rootstock Trial Summary
Site: Vero Beach, Indian River County
Scions - Rootstocks:

Red grapefruit (8 rootstocks)
White grapefruit (42 rootstocks)

Date planted: Date Planted: March/2007
Design: Randomized complete-block


3 replications
Plot size: 4 – 7 trees
Spacing: 15 x 25 ft . or 116 trees/acre

Data ['Marsh' grapefruit trial only]

2010/11: Juice quality, yield
2011/12: Juice quality, yield
2014/15: HLB rating [see details on HLB Special Field Day]
2015/16: Juice quality, yield
2016/17: HLB rating

Trial status: TERMINATED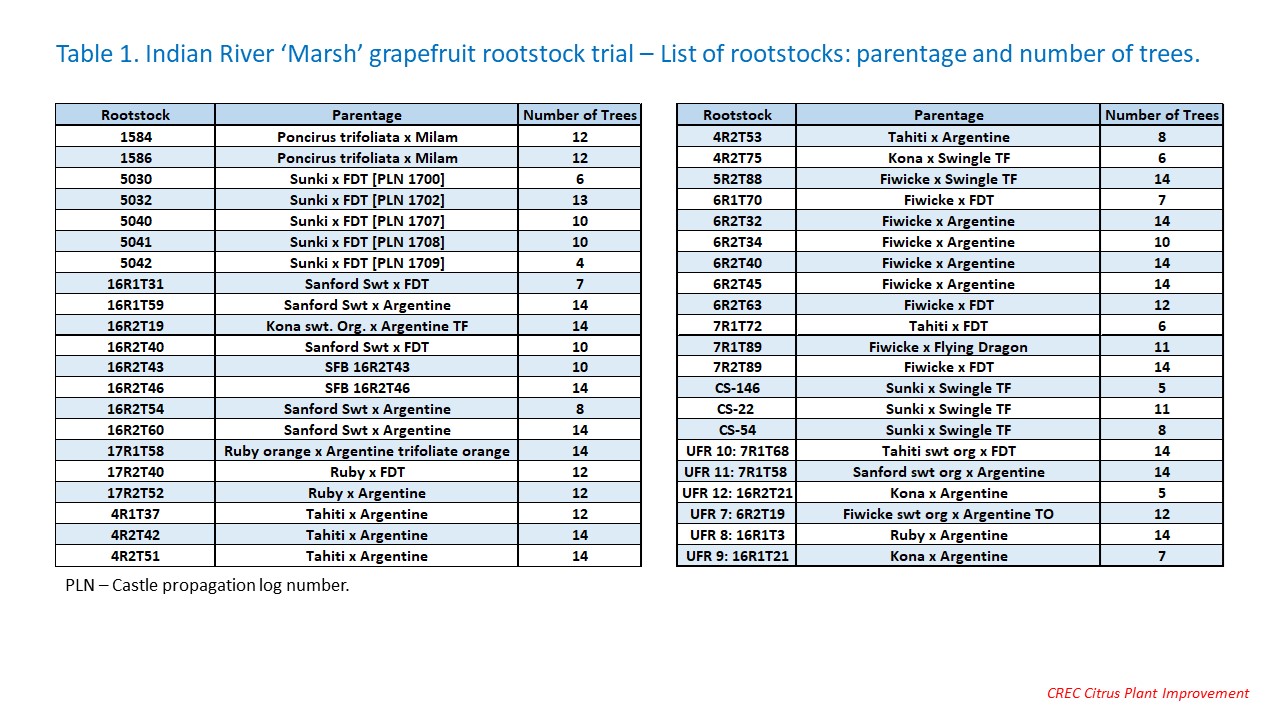 Indian River 'Marsh' grapefruit rootstock trial – HLB Special Field Day, October 22, 2014
At this special field day, the primary objectives were to show attendees the types of rootstock-HLB responses the researchers experienced in a field trial; and to see how independent grower ratings matched those of the researchers. There were about 50 attendees who were invited to walk the trial with a map and record any trees that rated "good", i.e., clearly better appearing than surrounding trees. Forty maps were returned.
Overall rootstock rating. How many trees of each rootstock selection were noted as "good" at least one time? For example, if there were a total of 12 trees in the trial on a particular rootstock selection and 6 trees were marked "good" at least once, that equals 50%. Results: The range was 9 to 100%. One rootstock had all trees [100%] and four other selections had 80% or more of the trees marked as "good."
Individual trees within rootstock selections, basically a quantitative assessment, i.e., what was the average number of times that each "good" tree was marked within a rootstock? For example, let's say there were 12 trees on Rootstock A, but only 2 trees among those 12 were noted as "good." If the total "good" marks on those 2 trees was 30, then 30/2 = 15 marks/tree. In contrast, there were also 12 trees on Rootstock B. There were 6 trees considered noteworthy, but only 6 "good" marks total were recorded: 6/6 = 1 mark/tree. Results: 9 rootstock selections averaged 10 or more "good" marks/tree. The range was 1-15.
Individual trees. Regardless of rootstock, what individual trees got the highest marks? Results: Some trees received 25 to 33 marks each; others received fewer. All trees that had 10 or more marks are shown in the following graph.

Indian River 'Marsh' grapefruit rootstock trial – HLB Special Field Day, October 22, 2014
Juice quality. Given that many of the rootstocks were citranges, the juice quality results among them were similar with no or few statistical differences. Overall, Brix values were low.
Yield. The productivity among the trees was one of the more discriminating rootstock factors. The 3-year cumulative yield when the trees were 3, 4 and 8 years old showed that those on rootstocks C-146, UFR 10, UFR 12 and 5030 had the highest values [about 6 boxes/tree] followed by about 10 other rootstocks with yields between 5 and 6 boxes.
HLB. There were clear differences among rootstocks in tree appearance in relation to HLB. The outcomes are discussed in the preceding Special Field Day material. Those differences were sufficient such that several rootstocks were later released as UFRs.