Rootstocks for Valencia, Vernia and Hamlin Evaluated at Venus, FL
Dr. Bill Castle – Dr. Fred Gmitter - Dr. Jude Grosser


June 2, 2022 - posted
CREC/USDA Citrus Plant Improvement
Rootstock Evaluations, Venus - Description
The cooperator agreed to plant four trials identified herein by scion where H= Hamlin, V=Valencia and numbers indicating the year the trial was planted along with the grove [Block] location. All trees, with one noted exception, were raised in the cooperator's private nursery from seed provided from several sources, but mostly by the CREC Citrus Plant Improvement team.
V2015/11. This trial consists of Valencia trees.
V2017/45. This trial consists of a mixture of Valencia [mostly] and Vernia trees.
H2016/59. The trees for this trial were obtained as extras from the private nursery of another company.
H2016/60. Routine data are not being collected from this trial because of severe problems with HLB probably because of weak tree growth resulting from poor quality irrigation water.
Rootstock Evaluations, V2015/11 - Summary
Location: Venus, FL.
Scion: Valencia
Rootstocks: see Table 1.
Date Planted: 2015
Design:

Randomized complete-block
Replications: 3
Plot size: variable, 20-272 trees.
Spacing: 9 x 21 ft. = 230 trees/acre

Data:

2017/18: Trunk diameter, canopy diameter and volume.
2018/19: Yield, tree height, trunk diameter, canopy diameter and volume.
2019/20: Yield, tree height, trunk diameter, canopy diameter and volume.
2020/21 & 2021/22: Yield, tree height, trunk diameter, canopy diameter and volume, productivity efficiency and juice quality: Brix, ratio and color. Correlation coefficient: Trunk diameter [ft.] vs Tree height [ft.], Trunk diameter [ft.] vs Canopy volume [ft3.] and Canopy diameter [ft.] vs Tree height [ft.].

Trial status: ACTIVE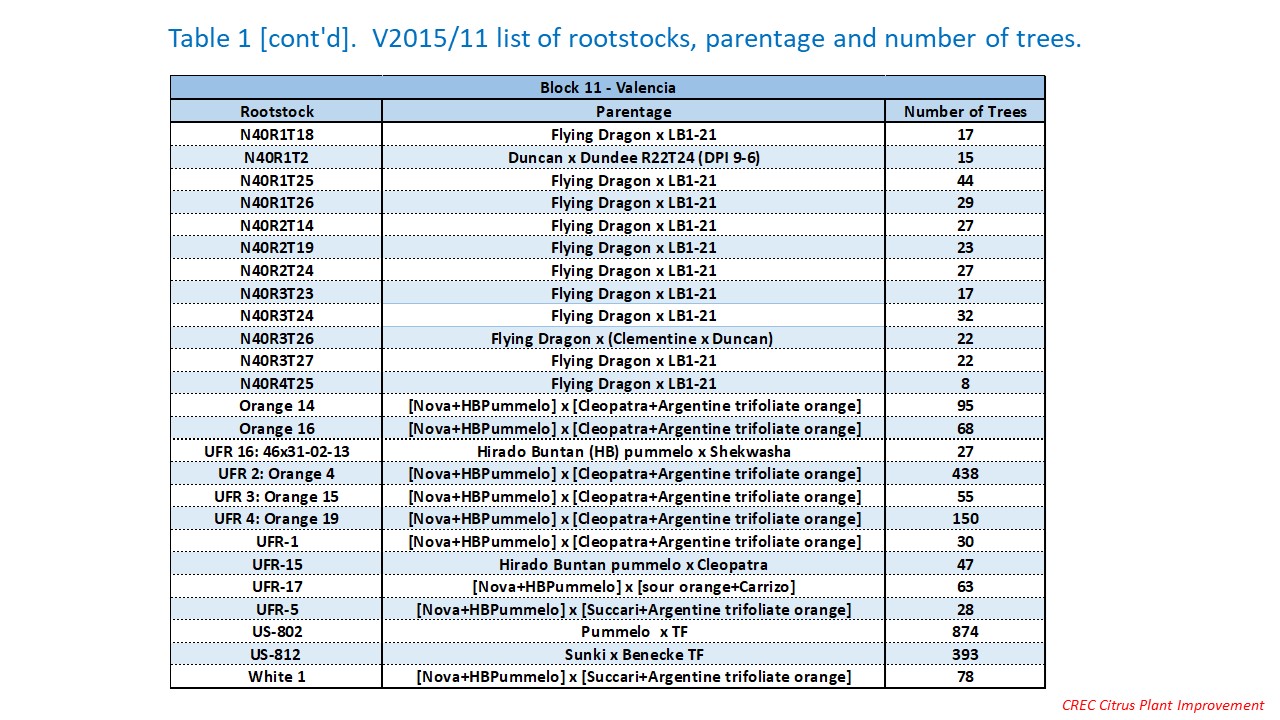 Rootstock Evaluations, V2017/45 - Summary
Location: Venus, FL.
Scion: Valencia & Vernia.
Rootstocks: see Table 2.
Date Planted: 2017
Design:

Randomized complete-block
Replications: 1
Plot size: variable, 12 – 20 trees.
Spacing: 9 x 21 ft. = 230 trees/acre

Data:

2020/21: Yield, trunk diameter, canopy diameter and volume and productivity efficiency.
Correlation coefficient: Trunk diameter [ft.] vs Tree height [ft.], Trunk diameter [ft.] vs
Canopy volume [ft3.] and Canopy diameter [ft.] vs Tree height [ft.].

Trial status: ACTIVE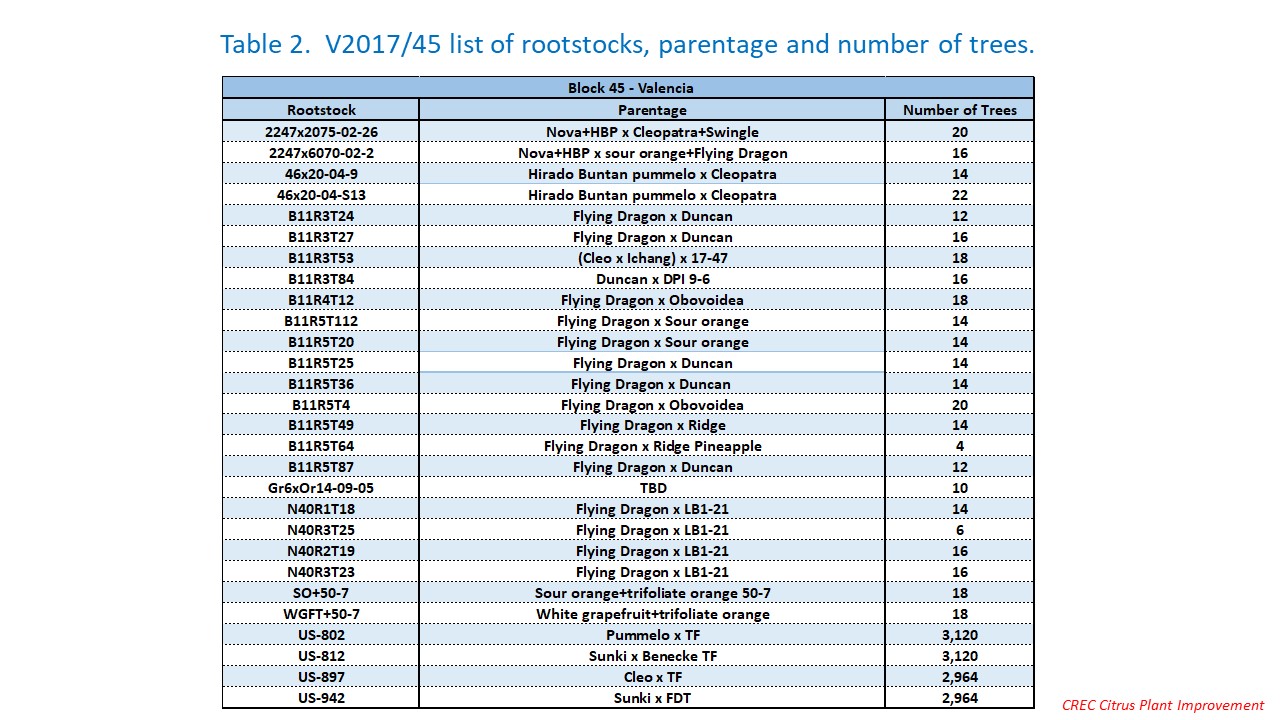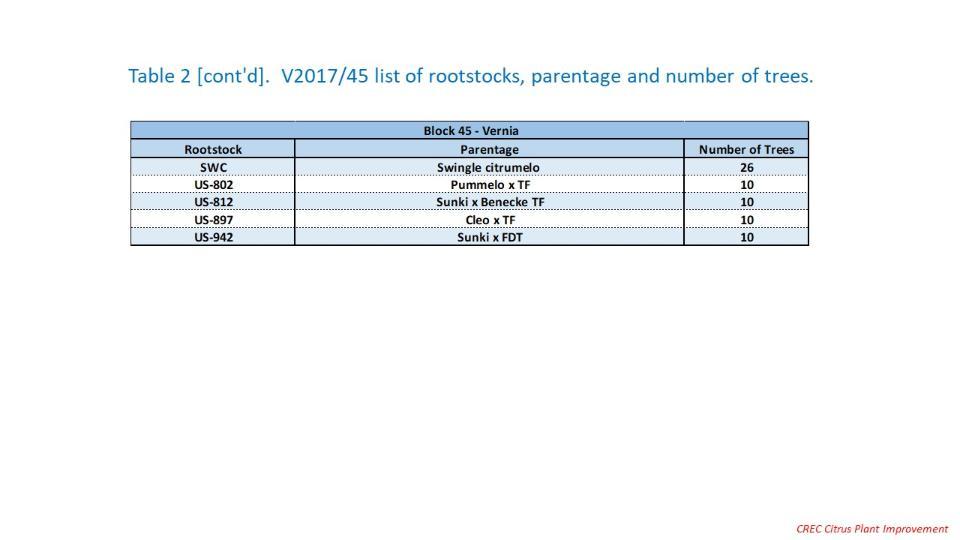 Rootstock Evaluations, H2016/59 - Summary
Location: Venus, FL.
Scion: Hamlin
Rootstocks: see Table 3.
Date Planted: 2016
Design:

Randomized complete-block
Replications: 4
Plot size: variable, 10 – 16 trees.
Spacing: 8 x 21 ft. = 259 trees/acre

Data:

2018/19: Tree height, trunk diameter, canopy diameter and volume.
2020/21: Yield, Tree height, trunk diameter, canopy diameter and volume. Correlation coefficient: Trunk diameter [ft.] vs Tree height [ft.], Trunk diameter [ft.] vs Canopy volume [ft3.] and Canopy diameter [ft.] vs Tree height [ft.].

Trial status: ACTIVE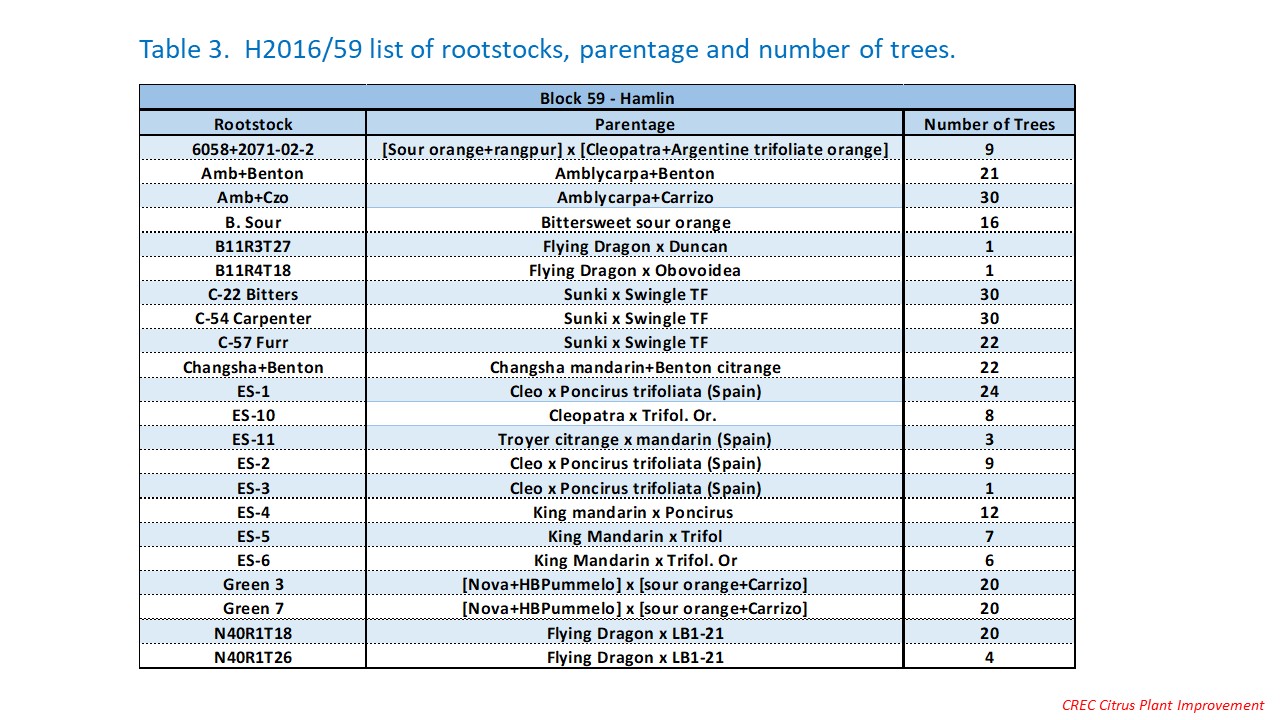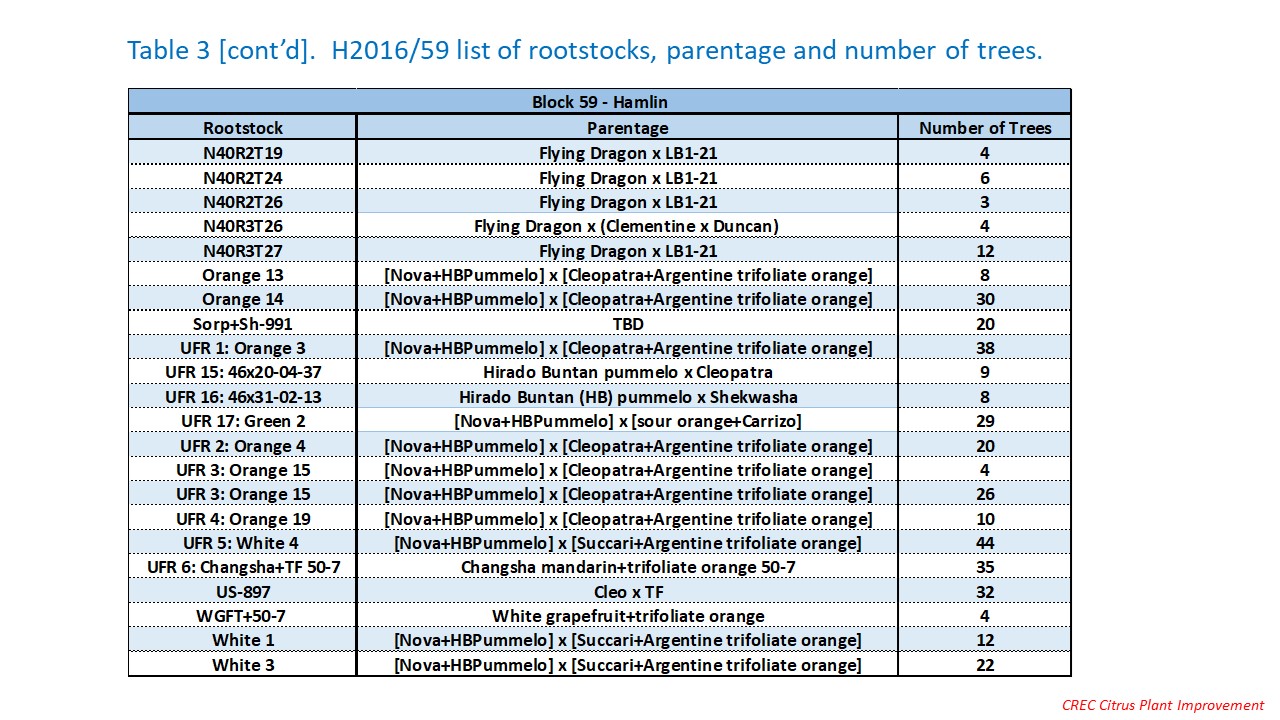 Rootstock Evaluations, H2016/60 - Summary
Location: Venus, FL.
Scion: Hamlin
Rootstocks: see Table 4.
Date Planted: 2016
Design:

Randomized complete-block
Replications: 4
Plot size: 20 trees
Spacing: 8 x 21 ft. = 259 trees/acre

Trial status: INACTIVE