Other Resources
UF/IFAS has a number of publications, fact sheets, and websites that are available to Florida's citrus growers. Exploring these resources, you will find information on grove management, pest management, citrus greening tolerant varieties, nutrition management, irrigation and much more.
2019-2020 Citrus Production Guide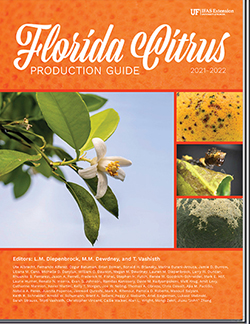 The production guide is a collection of the latest UF/IFAS knowledge and recommendations to manage not only HLB but the other issues that can affect citrus production here in Florida. Every day UF/IFAS scientists are at work in the lab or field where we learn something new that can be added to our knowledge on how to live with HLB. So, as new information is developed, this guide is updated and provided annually to keep you up to date on the latest science-based information you can put to use in your groves.
---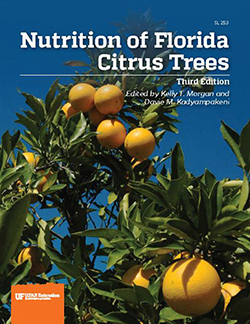 Nutrition of Florida Citrus Trees, 3rd Edition is an update of UF/IFAS Bulletin SP169, which provided guidelines for Florida citrus fertilization since 1995. The objective of the original edition was to provide background information and recommendations to develop a sound citrus nutrition program that optimizes financial returns while sustaining yields and maintaining soil and water quality. The second edition maintained that objective as it incorporated the findings of numerous citrus nutrition research projects conducted since the mid-1990s.
---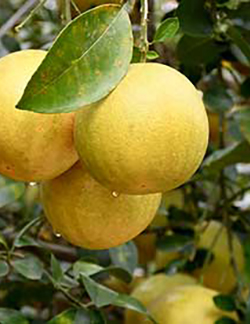 This annual bilingual training is designed to help employees work safely to prevent accidents, operate equipment in a mindful manner, be aware of their surroundings to avoid dangerous situations and to satisfy necessary training requirements for WPS, food safety and personal hygiene. This year we are adding two special talks about COVID-19 and heat stress and first aid, both focusing in agriculture. Participants will receive a certificate of attendance.
---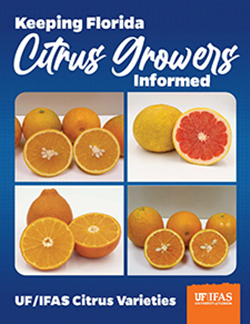 ---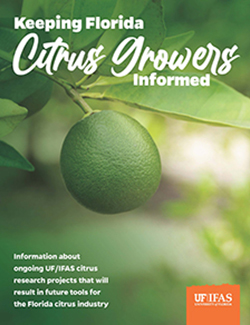 ---
Citrus Rootstock Selection Guide (FLCRSG)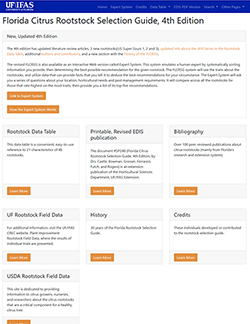 The Florida Citrus Rootstock Selection Guide (4th edition) is a tool that growers may use to identify and select the best rootstock for their location, horticultural needs and pest management requirements. It will compare across all the rootstocks for those that rate highest on the most traits, then provide you a list of its top five recommendations.
This edition has updated literature review articles, 3 new rootstocks(US Super Sours 1, 2 and 3), updated info about the UFR Series in the Rootstock Data Table, additional authors and contributors, and a new section with the History of the FLCRSG.
---
Plant Improvement Rootstock Field Data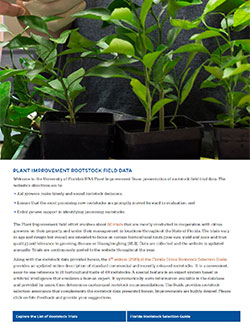 The Plant Improvement field effort involves about 60 trials that are mostly conducted in cooperation with citrus growers, on their property and under their management, in locations throughout the State of Florida. The trials vary in age and design but overall are intended to focus on certain horticultural traits [tree size, yield and juice and fruit quality] and tolerance to greening disease or Huanglongbing [HLB]. Data are collected and the website is updated annually. Trials are continuously posted to the website throughout the year.
---
Citrus Nursery Production Guide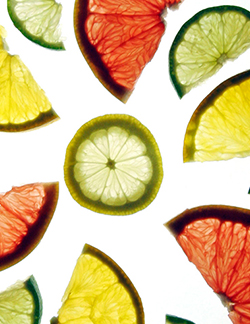 ---
Electronic Data Information Source (EDIS)
EDIS is the Electronic Data Information Source of UF/IFAS Extension, a collection of information on topics relevant to you.
---
Get all the latest news from UF/IFAS citrus research and education centers by checking out their blogs. You can even subscribe and have new blogs delivered directly to you email inbox.
Check out these links:
UF/IFAS CREC Blog: http://blogs.ifas.ufl.edu/crec/
To subscribe to this blog, all you need to do is click here and provide your email address.
UF/IFAS Indian River Research and Education Center: http://blogs.ifas.ufl.edu/irrec/
UF/IFAS Southwest Florida Research and Education Center: http://blogs.ifas.ufl.edu/swfrec/
---
Websites
UF/IFAS Research and Education Centers
Citrus Research and Education Center Crec.ifas.ufl.edu
Indian River Research and Education Center Irrec.ifas.ufl.edu
Southwest Florida Research and Education Center Swflrec.ifas.iufl.edu