Many new tools such as nutrient management guidelines, plant growth regulators, trunk injections, and others are being used to improve the health of HLB-affected trees. With these tools, it can be a challenge to assess if tree health is improving by a visual basis alone. Canopy Assist is a free program offered by UF/IFAS Citrus Research and Education Center to assess the canopy health of trees over time via digital image. By quantitatively monitoring tree canopy density over time, you can determine if the tools you are using are having a positive or negative impact, therefore making informed management decisions.
How does it work?
Four photos per tree (taken as per the instructions) are submitted by the grower to the canopy assist program. Once the photos are received, UF/IFAS CREC researchers will use ImageJ software and AI to determine a canopy density number. As the canopy number changes over time, management programs can be evaluated to determine their effectiveness.
How do I interpret the results?
The first submission will be a baseline and there is no information to interpret. Once the second set of photos are submitted and the results are received, you can compare the two numbers to determine if the tree canopy density is increasing or decreasing. It is critical to use the same trees each time you submit photos.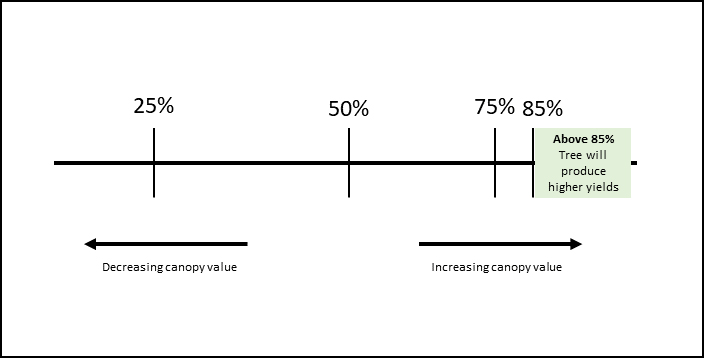 How do I take the photos?
Select and flag the five trees (at least) that are representative of the grove. Attach your smartphone to the selfie stick and turn on the phone's camera app. Next, with the front-facing camera facing the sky, place the phone on the ground, midway between the trunk and the edge of canopy and take a picture. Repeat this for all four quadrants of each tree.
Review and upload photos. This should be done at least once a year. It is preferred to submit photos twice a year or maximum every three months.
Flag the trees for follow-up measurements. It is important to take photos of the same trees throughout the sample time period.

Photo Examples
Good Examples (Click image to enlarge)
Bad Examples (Click image to enlarge)
Resources
Canopy Assist: An Evaluation Tool for Citrus
*Click Play Button to Start Video
---