Welcome to the Citrus Research & Education Center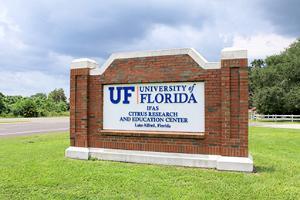 For the past 100 years, the University of Florida (UF) Citrus Research and Education Center (CREC) has been honored to assist the citrus industry in meeting its developmental needs through its Research, Extension, and Teaching programs. CREC is the oldest and largest off-campus experiment station in UF's Institute of Food and Agricultural Sciences (UF/IFAS) and is unique among research centers in that it focuses entirely on one commodity, citrus.
CREC discovers and delivers innovative solutions that empower citrus and other agricultural interests to conduct responsible and profitable business. CREC fosters scientific excellence and efficient use of resources.
With 200+ employees, CREC is also home to the scientific research staff of the Florida Department of Citrus (FDOC). Facilities also include 600+ acres of groves, greenhouses, a fresh fruit packinghouse, a juice processing pilot plant and more than 40 laboratories.
In 1982, financial contributions from the citrus industry made possible the construction of Ben Hill Griffin, Jr. Citrus Hall, a conference facility that includes meeting rooms, a teaching laboratory, an electron microscopy facility and the largest citrus library in the world.