The purpose of the UF/IFAS CREC Research Symposium is to showcase research by our graduate students, postdoctoral research scientists, biological scientists, and visiting scholars. This is an annual event for our community to become acquainted with ongoing research activities across the multitude of specialties represented at the CREC. The symposium also provides an opportunity for developing presentation skills while networking with colleagues across disciplines. The chance to receive constructive feedback from peers and mentors is a fundamental component of this event.
Dates and Guidelines
The 11th Annual UF/IFAS CREC Research Symposium will be held on Friday, March 24, 2023 from 10:00am to 12:00pm. Refreshments will be provided.
Dates
March 3, 2023: Deadline to submit abstract
March 15, 2023: Deadline to submit poster for printing
Abstract Guidelines
Abstracts must be in Times New Roman font, 11 point, single spaced
Title should be bold and uppercase
In the list of authors, the presenter name should be bold and underlined
Provide department name, position, and advisor
Abstract should be a single paragraph of no more that 330 words, fully justified
For a sample abstract, click here
Please upload your abstract here.
Poster Guidelines
Posters must not exceed 36" wide by 44" tall. If you are using a previously printed poster or your poster does not meet the poster guidelines, exceptions can be made in advance by notifying Kathy Snyder at skyderkm@ufl.edu.
You can also find a helpful guide for how to create an effective research poster here.
Please upload your poster here.
Judging
The graduate committee will be judging the posters and awards will be presented to top scoring postdocs and students.
Posters will be judged based on content, correlation of poster to abstract, and adherence to formatting guidelines.
---
2023 Awards
Master's Graduate Students
PH.D. Graduate Students
1st place – Jamie Burrow
2nd place – Erica W. Carter
3rd place – Eva L. Mulandesa

Postdoc Winners
1st place – Hana Lee
2nd place – Jinpyo An
3rd place – Angela Chuang (not pictured)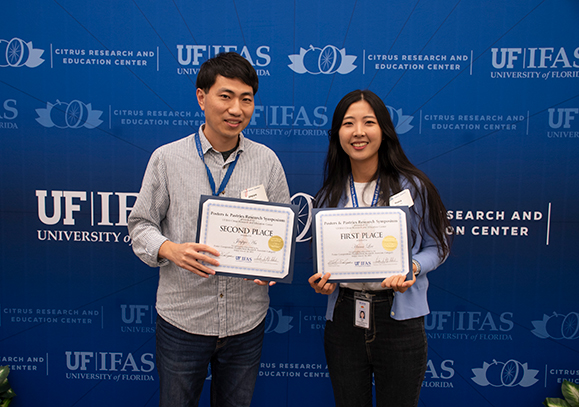 ---
2022 Awards
Graduate Students
1st place – Mary Sutton
2nd place – Shankar Shrestha
3rd place – Erica W. Carter
Postdoc Winners
1st place – Angela Chuang
2nd place – Eric Middleton
3rd place – Xiaokang Zhuo

---
2021 Awards
Graduate Students
1st place – Binita Shrestha
2nd place – Blessing Chukwuaja
3rd place – Erik Roldan
Postdoc Winners
1st place – Dayse Pulici
2nd place – Angela Chuang
3rd place – Place Surendra Neupane
---
2019 Awards
Graduate Students
1st place – Collin Lewis-Solomon
2nd place – Samuel Kwakye
3rd place – Naweena Thapa
Postdoc Winners
1st place – Sheng-Yen Wu
2nd place – Sylvia Bonilla
3rd place – Jeane Dayse Pulici
First Time Presenter Poster